The idea of the Lighthouse Welcome Center®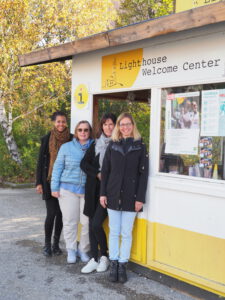 The Lighthouse Welcome Center® was opened in the initial accomodation Bayernkaserne in the north of Munich in December 2014. It is the realization of the basic idea of the three partners Lichterkette e.V., Innere Mission Munich and Ingvild Goetz Philantropy to develop a welcome project for refugees together. For two years the Lighthouse Welcome Center® has been refuge for recently arrived refugees, who were registered there and taken care off. They stayed at this place only for a few days to weeks.
More than 100 trained volunteers welcomed newcomers between 8am and 8pm to let them know everything that is of importance, related to the facility, the area, but also the city of Munich (e.g. language courses, medical aid, public transport). Not only is the yellow-white painted booth the first point of contact to the local population for refugees, but interested citizens of Munich also approach it to inquire about news in the reception facility or to see where they can help.
In December 2016, the initial reception facility in the Bayernkaserne was closed and the Lighthouse Welcome Center® moved within the premises.
The Lighthouse Welcome Center® from 2017 on
Since May 2017, the Lighthouse Welcome Center® had been at its new location in the Bayernkaserne behind the entrance Heidemannstr. 50 and has proved itself as a place to go for refugees who live there in the decentralized accommodations of Munich city. Most of the residents already spoke some German and participate in courses, did apprenticeships or have a job and thus needed other information than newcomers. Therefore the Lighthouse volunteers had longer and more intensive conversations, practiced German conversation with the inhabitants, played games in order to practice the language, looked for suitable courses, leisure or sport facilities for them or simply helped them to become better orientated in Munich.
The Lighthouse Welcome Center® at the new location Lotte-Branz-Straße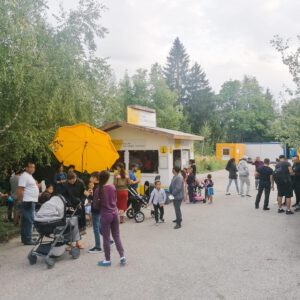 The Lighthouse Welcome Center® has now moved again: Since the Bayernkaserne is being demolished, the hut is now located next to the short-term reception at Lotte-Branz-Straße 2. "Glad you're here…" will be the greeting of many volunteers when residents who have just arrived come to them. Refugees get important information for their new life in Munich. Thus, the Lighthouse is back to its roots: It is once again a contact point for new arrivals in Munich. They are welcomed with a smile and the legendary cup of tea to make their start in Germany easier.
After years of existence, accompanied by wide-spread media attention, the project acts as a reference to the city as well as the federal state, cooperates with educational and cultural institutions and receives donations (in kind and monetary) by companies.
Do you want to be part of the Lighthouse Team?
Please contact our coordination Team
ehrenamt-asyl@diakonie-muc-obb.de
Tel. +49 (0) 89 12 69 91 5114